PINK EYE
Also known as conjunctivitis, happens when the conjunctiva, a thin transparent layer covering the white portion of your eye ball is irritated by an infection or due to some allergy. Pink eye can be very contagious (easily spread from person to person via touch. Thus one needs to sanitize all their belongings and avoiding close contact).
The most common signs and symptoms are
Swelling of eye lids(inflammation)
Sticky discharge
( white, clear or mucoid)
Light sensitivity (photophobia)
Viral conjunctivitis
It is the most common type of pink eye. This conjunctivitis is very contagious and often spreads through schools and other crowded places. It usually causes burning, red eyes with a watery discharge.
Allergic conjunctivitis
is a type of pink eye that comes from an allergic reaction to something. It is not contagious. It makes your eyes very itchy, red and watery, and the eyelids may get puffy.
Bacterial conjunctivitis
It is also very contagious. An infection from bacteria causes this form of pink eye. With bacterial conjunctivitis, you can have soreness, red eyes with a lot of sticky pus.
Pink Eye Treatment
Treating your pink eye usually depends on the type of conjunctivitis.
Viral conjunctivitis:
If your conjunctivitis is caused by a viral infection, there are no specific treatments. Your body fights the virus on its own. Placing a cool, wet washcloth on your eyes can help make them feel more comfortable.
Bacterial conjunctivitis
If your pink eye is caused by a bacterial infection, your eye care professional may prescribe antibiotic eye drops, depending on how severe your symptoms are.
Allergic conjunctivitis
If your conjunctivitis is due to allergies, you might be told to use certain eye drops to help with the itchiness and puffiness.
Sometimes conjunctivitis can be caused by a chemical or other substance in your eye. In this case, rinse the eye free of the substance. You might be told to use certain eye drops or ointment for the eyes.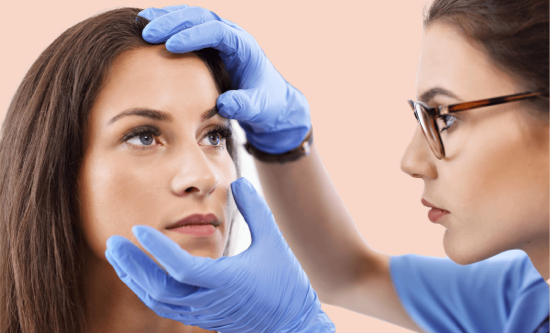 STILL HAVE QUESTIONS?
Request a same day visit with a
dry eye specialist.
FAQ's
How long does it take to a complete dry eye test?
Dry eye test can be completed in less than 5 minutes.
How do I read the results?
At the end of your dry eye test we display the severity of your dry eye symptom with easy to read test results .
Will I receive a copy of my test results?
At the completion of dry eye test, you will be presented an option to "Save" or "Email" the results to yourself.
Can I use this test to monitor my condition?
Please check with an eye care provider. You may be able to use this tests to monitor, and record, the changes in your symptoms. We encourage you to remember that this is a screening tool and is does not replace an in-person, comprehensive eye exam.
Who are these doctors?
EyecareLive has a network of eye care professionals both optometrist and ophthalmologist who are there to provide the best eye care services. Most of the doctors have more than 10 years of work experience. They are well trained to provide the best telehealth services through EyecareLive. Doctors are both single as well as multi-state licensed practitioners. We do our best to connect you with the nearest doctor to help you follow up with the doctor in-person if necessary.
Can I get a prescription refill?
Yes, but after a thorough examination and detailed ocular & medical history the doctor determines if the patient is eligible to receive a prescription refill or would it be better suited for an in-person eye exam. The decision about the dosage and the prescription refill is at the sole discretion of the doctor.
Do you accept insurance?
Currently we do not accept insurance but we do provide an invoice to help you submit it to your insurance provider for reimbursement.
Do you see patients without insurance?
Yes, you do not need insurance to connect with our doctors.